WELCOME
~ to the ~
International Miniature Trotting & Pacing Association
The Sport of Miniature Harness Racing is a growing part of the Miniature Horse Industry. The International Miniature Trotting & Pacing Association, Inc. (IMTPA) was created and founded by four Texas residents and sanctioned by The International Trotting & Pacing Association, Inc. (ITPA), on October 16, 1992.
The IMTPA is a non-profit organization created to afford owners of Miniature Horses an opportunity to join in the promotion of miniature harness racing as an additional performance activity creating a much needed increased spectator participation and consequent marketing opportunity for the breed.
IMTPA is an "OPEN" Sport Registry with a maximum height limit of 38"; and as of 1998 includes a separate mid-size division of Over 38" to a maximum of 43" . As of February 2002 a second mid-size division has been added with horses over 43" to 46". Since its inception, the registry has drawn members and horses from several states including Canada with active IMTPA sanctioned tracks located in Florida, North Carolina, Kentucky, Texas, and Maine.
This is a do-it-yourself family sport and anyone from the age of 8 to ? can be a participant (children race in Youth categories through the age of 15; over 16 years of age race as adults). The IMTPA is constantly striving toward advancing and developing endless possibilities present in the bright future of the thrilling new sport of Miniature Harness Racing. Your inquires are welcome and your participation and support are encouraged.
Call the IMTPA headquarters for an Information Packet containing:
History of IMTPA
Registration Forms
Membership forms
Suggested track Layouts
10 min. Video Film Clip on IMTPA Miniature
Harness Racing Fun
Info on how to start an IMTPA Race Club
& Member/Track in your area
For More Information, Please Contact:
International Miniature Trotting & Pacing Association
9:00am to 5:00pm - Monday thru Friday
PHONE: (254) 853-2806
FAX: (254) 853-3744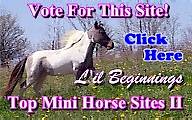 Site Designed and Maintained by KHA WebSite Design
Copyright ©2001-2002 IMTPA
No graphic material anywhere on this web site may be taken, by any means, and used without the express written permission of the author and/or owner(s). The graphics on this site are not of public domain.